Student Life at the Jacob House
Jacob House is a refuge and place of preparation that brings simplicity and peace into a man's life as he sets out to seek God. Students are given the opportunity to take part in the maintenance of one of the most beautiful properties in the city. After a day of classes and prayer and fellowship around the table at meals,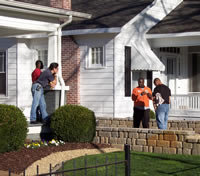 a student can walk around the property for free time and get a true appreciation for all of God's beauty and what they have become a part of. Life at the Jacob House is very rewarding.
Every day provides the opportunity to meet Jesus in Bible study, in prayer, in worship and most of all in the anointed preaching that flows from the pulpit. Four weekly services allow a chance to gather with the congregation in the presence of God and chapels allow some one-on-one time with the brothers to communicate what God is doing and speaking. You'll find your focus shifted, heart renewed and spirit lifted over a course of time.
During the week there is free time for strength training and exercise, writing letters to family, basketball and games among other things. Saturdays provide free time for watching selected movies, shopping or the occassional church outing.