Welcome to the School
The School of Christ International, now functioning in many countries of the world, has been one of the most effective tools for world evangelism in the history of missions. The entire focus of the School of Christ is to train men and women to reach the lost.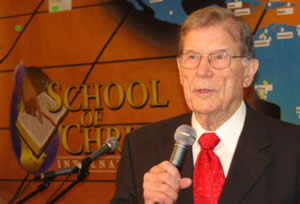 The vision of the school is to train the vessel through which revival can come. We have no churches. We are called of God to train pastors, evangelists, and Christian workers, and send them back to their home church, or wherever they feel God has called them to minister.
After completing the school, you will return home with more than just a notebook full of notes: you will have become the truth you have learned. Throughout the entire school, we will continue steadfast in the Word of God, prayer and fasting. You feel that God has called you, so if you commit yourself for three weeks of being totally immersed in prayer and God's Word, your life will be changed forever!
The Curriculum
The School of Christ is comprised of 151 lessons divided up into 19 series. These series cover many aspects that are not covered in a seminary. The School of Christ is not meant to replace long term Bible schools or seminaries. The School of Christ is God's answer to those men and women who are called of God, and do not have the time or means to attend the seminary. It is designed to equip men and women to carry the Gospel intelligently to every region of the world.
We believe that the church comes out of life, not doctrine or orthodoxy or by human effort and resource. If the student can become full of the life of God, then wherever he or she goes in the will of God, a church will be born.