European Preachers & Believers Convention
This text will be replaced
Date: Tuesday 3rd – Friday 6th, November 2009
Location: Brean Unity Resort, Somerset, England.
Conference Founder: BROTHER B.H. CLENDENNEN
Brother B.H. CLENDENNEN - Founder and Overseer of School of Christ International - now with students in over 150 countries of the world. He has been an ordained Minister with the Assembly of God for over 55 years but now ministers internationally amongst all groups of believers. He was born in 1922 and saved in 1949. He soon felt the call of God and set out as an itinerant evangelist. In 1956 he planted a church which he led as a great missionary church for the next 35 years. During that time he held crusades across the USA as well as in many other countries. With his wife he was in Vietnam during most of the war where they preached and prayed until Pentecost broke upon the people. Over the years he has ministered by radio, television and books but above all else by "Going." In 1992 at the age of 70 he moved to Russia to begin the first School of Christ. Since then this work has grown beyond any imagination as a tool of recovery and revival. Around the world he is greatly sought after as a preacher and teacher of the Word of God especially by leaders; but more than that, as a man of God who has walked with God faithfully leaving us an example to follow. In 1956 the word of the Lord came to him when planting his first Church, that out of this work the Lord would 'Restore the Message of Pentecost.' This is NOW being fulfilled.
Guest Speaker: PASTOR DANNY KIRBY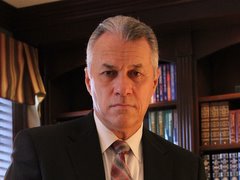 Brother Kirby is Pastor of New Covenant Outreach in Goldsboro, North Carolina, USA. With his wife Sister Beth they run School of Pentecost and various ministries with the purpose of making Christ central in all things and in restoring a true Pentecostal experience to the Church. They now broadcast Brother Clendennen and School of Christ material 24 hours a day via the internet for all to watch free (www.actsamerica.tv).