"Ye are a chosen generation... who hath called you out of darkness into his marvellous light." ~ 1 Peter 2:9
"Let no man despise thy youth; but be thou an example of the believers,
in word, in conversation, in charity, in spirit, in faith, in purity." ~ 1 Timothy 4:12
Featured Story - John Wycliffe - Part 2
All books in those days were very scarce and costly, for the art of printing was not then known. Before the year 1300, the library of the University of Oxford consisted only of a few tracts, chained, or kept in chests, in the choir of St. Mary's church. Copies of all books were made in writing; and as this was a slow and careful work, it took several months for one person to write a complete Bible. How different is it now, when a printing machine will produce fifteen to twenty copies of the Bible every hour, and thousands every year!
---
About Our Youth Ministry
~ What We Believe & Teach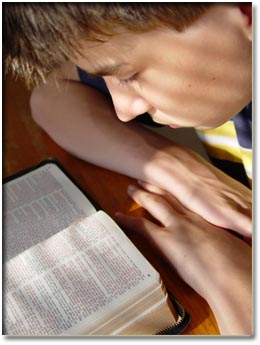 Many people today, especially in the church system, believe that in order to keep our youth interested and involved in church that we must create a certain atmosphere and have certain programs that are entertaining enough to keep their attention. In the church today we have seen Christianity diluted and misrepresented so that the young people will still have a desire to be in church and call themselves Christians. This is true for both the youth as well as the adults. There is a saying spoken by old men of God which says, "You can always tell the standards and principles of a church by looking at their youth".